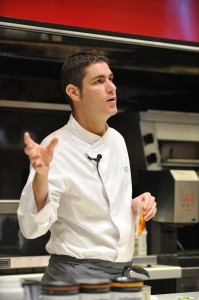 Soon after the special class by Mr. Eric Ziebold, we are pleased to report about another special class by one of the top chefs abroad, Mr. Luis Arrufat on July 18th.
G9 Summit held at the "G9 + TOKYO TASTE 2012" last year.
Have you heard about Basque Culinary Center?
The G9 organized by representatives in 9 counties including Mr. Ferran Adrià i Acosta from El Bulli.
This university in Spain contributes to this event.
As a confectionery instructor, Mr. Luis Arrufat, from Basque Culinary Center kindly gave a lecture for our students.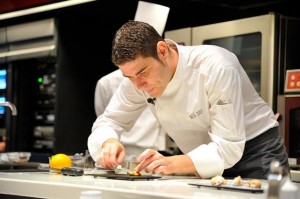 This was open to the public and our students in the second year of Culinary High Tech Business Administration Course and Culinary Patisserie & Boulangerie Course participated in this class, and they learned from the different techniques he used.
In the limited time, the chef quickly completed more than eight dishes!
The chef used the menu he made in Spain as a base,
and at the same time arranged it by making use of the experience and knowledge acquired in Japan.
In bounded time, he demonstrated 8 recipes for our surprise!
Based on the menus in Spain, he put a unique arrangement of what he has gotten through his time in Japan.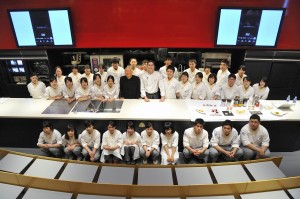 To end the class they took ceremonial photographs with Mr. Hattori and the students. The whole class was very excited.