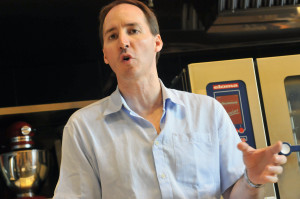 Mr. Eric Ziebold is an executive chef of "City Zen" in Mandarin Oriental, Washington.
Mr. Ziebold kindly held a special class co-hosted by the American Embassy and our college on June 28th .
With his great interests in Asian cuisine, Mr. Ziebold put the essences of Japanese cuisine such as cooking techniques of foie gras Shabu Shabu and Tempura performing in front of the guests and food into his original recipes.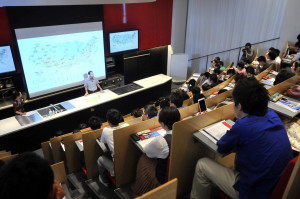 Mr. Ziebold is currently contributing to introduce and expand the long-term developing American cuisine history combining its tradition.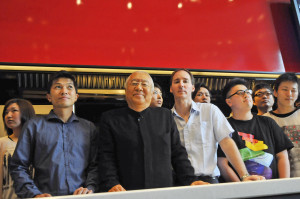 Message to our students from Mr. Ziebold:
"Never be afraid making mistakes and keep concentrating on your tasks.  Work capabilities are currently available in everywhere equally; therefore, it is very important to develop individual skill.  There are many people doing the same jobs; in other words, there are many who can take over the jobs.  What is necessary is an enthusiasm to take an opportunity. "